4 / 18
Moss Family History: John Moss I, 1604 - 1707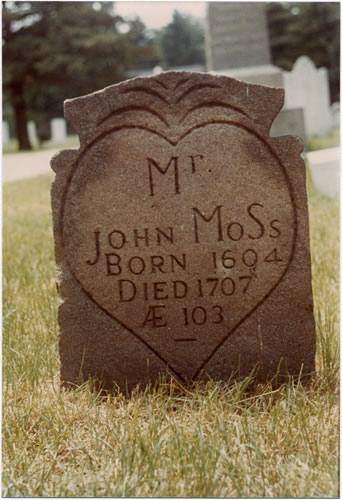 Our first recorded ancestor was born 1604 in Cotheridge Parish, Worcestershire, England. He came to Massachusetts on the ship "Hector" in 1638. Later, he went along with men by the names of Hopkins, Eaton and Davenport in the same ship "Hector" from Ipswich, Massachusetts to New Haven, Connecticut and settled there for a time. Then he, along with John Brocket, a life-long friend from Wallingford, Berkshire, England, and two other men, established a new colony approximately twenty miles inland and named it Wallingford. In England, both Wallingford and Cotheridge Parish are not more than sixty miles from the very important port city of Bristol at the mouth of the Severn River.
As a matter of historic interest, there was another John Moss, not of our line, in America at that same period. It is recorded that he married Mary Jupe and returned to England in 1654.
For being one of four men appointed to manage plantation affairs there and other services rendered to the Crown he was granted a parcel of land a few miles away in the township now called Cheshire. A small piece of that original farm, called the Rock Lot, is still owned by my brother John in 1975. It was so-called because on it there is a large glacier-deposited boulder that split in half with one side lying with the flat surface uppermost. The first shelter to be built on this new property was erected on this convenient dry-surface floor.
Apparently John Moss I was quite religious and self-determined, for it is recorded in the New Haven town book of 1646 the following:
"John Moss, being bidd to walk the rounds on a Lord's Day came to the Meeting House and stayed there, so the service was neglected. He was fined ten shillings."
Little is known of his wife except that she was called "Goody" which certainly was not unusual in those days. They had eleven children, six of whom lived to adulthood.
The names of the children who survived to adulthood were:
Mercy (who was a boy despite his been given a girl's name)
John 1650 - 1717 (Our line)
Joseph
Elizabeth
Hester
Isaac
He died in 1707 at the ripe old age of 103 in Wallingford, Connecticut, and his stone was still in good condition in 1959 and I took a photograph of it. One of his daughters was the wife of Abraham Doolittle who was one of the three men who, with John Moss, managed plantation affairs in Wallingford. The Doolittle family had a nationwide reunion in the summer of 1952 in Wallingford.