9 / 18
Moss Family History: Joel Moss II, 1797 - 1890
Joel II was born Oct. 10, 1797. He married Nancy Upson on Sept. 15, 1824. She was born in Southington, Connecticut Feb. 21, 1803 and died June 6, 1873.
Joel and his brother Lloyd built a sawmill and wagon hub factory where their father's fulling mill had been. It was three stories high and was successful in their lifetime. They shipped many hubs of all sizes to New Haven and even as far away as Detroit. Of course that too, like the gristmill and fulling mill went out of date.
The names of their children were as follows:
Hannah - born Dec. 11, 1826, married Lauren A. Humiston
Howard - (He became Judge Howard Moss)
Titus - born Feb. 1828 - died May 3, 1863 in the battle of Chancellorsville and was buried there.
Julius - born 1830 - died 1922 (Our line)
Emma Upson
Samuel - who died in three years
Samuel Lester - Fought in the Civil War
Ellen Eugenia
Joel II is the first Moss of whom we have photographs. He died on June 24, 1890, in Cheshire. His tombstone is in Saint Peter's Episcopal Cemetery, Cheshire.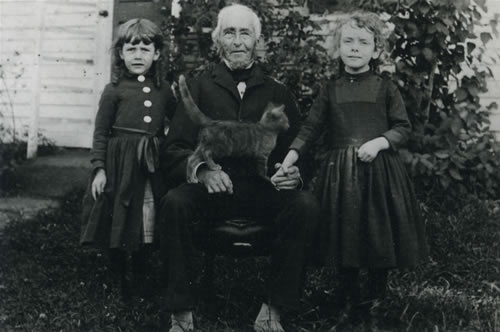 Photo of Joel II with his grand-daughter, Helen Moss, (daughter of Judge Howard Moss), and his great-grand-daughter, Helen Williams Hastie (grand-daughter of Hannah (Moss) Humiston).
Aunt Bertha said she was sorry she had forgotten the name of the cat.
In my younger days I often heard grandfather Joel referred to as "Captain Joel".