Photos from Oslo, May 2003
Copyright © 2003 Shelagh Lewins.
---
Photos from the Viking Ship Museum in Oslo.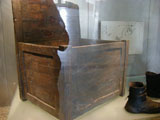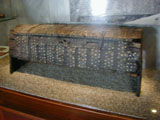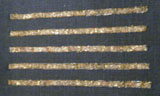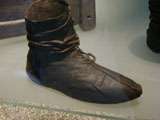 The origin and date of the checked woollen cloth are unclear. A museum guide booklet has been quoted as saying "In a chamber grave from Haugen, Rolfsoy in Ostfold on the east side of Oslo Fjord, fragments of a large cape with a black and white plaid pattern were found along with the remains of a tapestry". However, I don't know of any documentation for this find, and I don't remember there being any clear labelling at the museum. According to Carolyn Priest-Dorman, a chamber grave at Nedre Haugen was excavated by enthusiastic locals in 1864 and some pieces from the grave made it to a museum eventually - this may be one, but it's not clear. The cloth is pre-Viking in style, and although in 1922, Broegger dated Nedre Haugen to circa 900, this may not be a secure date.
---
Shelagh Lewins