Bands from the Oseberg Ship
In May 2003 I visited the Viking Ship Museum in Oslo, where viking ships are displayed along with various things which were found in them. Most interesting to me were the textiles from the Oseberg ship, the archeological report on which was finally published in 2006, though only in Norwegian with English summaries. If anybody would like to join forces to commission an English translation, please get in touch.
Click on the thumbnail below to see a photo of us in front of the Oslo Town Hall. I'm the one in the blue mac staring vacantly at the sky. Al is the one behind the camera :)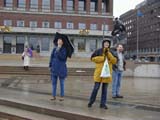 I examined two woven bands from the Oseberg ship, which are on display in the museum, and also Professor Christensen allowed me to look at a few items from the archeological report. From this information, I've written two short reports on the bands:
Partly-completed tablet woven band from the Oseberg Ship
Brocaded and soumak-wrapped band from the Oseberg Ship
You can see some more photos from our Oslo trip here.